The kitchen is often the heart of the home, and Mother's Day is the perfect time to thank mom for her hard work in protecting this special space.

With a gift from your local gourmet kitchen store, you can show just how much your mother means to you without breaking the bank. Whether she loves cooking or baking, we have pulled together some amazing gifts for Mother's Day that are sure to put a smile on her face!
From bakeware and cookware to convenient gadgets and stylish decor accents, make sure Mom knows just how much love and appreciation you have for all she does with these heartfelt items that will enhance any kitchen.
Mother's Day Gift Ideas for the Home Cook
What better way to show appreciation for the home cook in your life than with a thoughtful gift? Consider getting them something practical and useful, like a set of high-quality kitchen knives or a stylish apron to wear while cooking up a storm. Or, if you want to get creative, consider a personalized recipe book or a beautiful Teak cutting board.
No matter what you choose, your loved one will appreciate the effort you put into finding the perfect gift to show how much you care. We know with any of these gifts, you can make this Mother's Day one that will be remembered for years to come.
Cooking Utensils and Gadgets
Cooking is not just about having the right ingredients; it's also about having the right tools. The world of cooking utensils and gadgets can be overwhelming, but it can also be a lot of fun to explore.
From high-tech air fryers to humble wooden spoons, there are tools for every kind of cook and every kind of cuisine. Whether you're a seasoned chef or a beginner in the kitchen, the right utensils can make all the difference in your cooking experience.
New Epicurean Wooden Utensils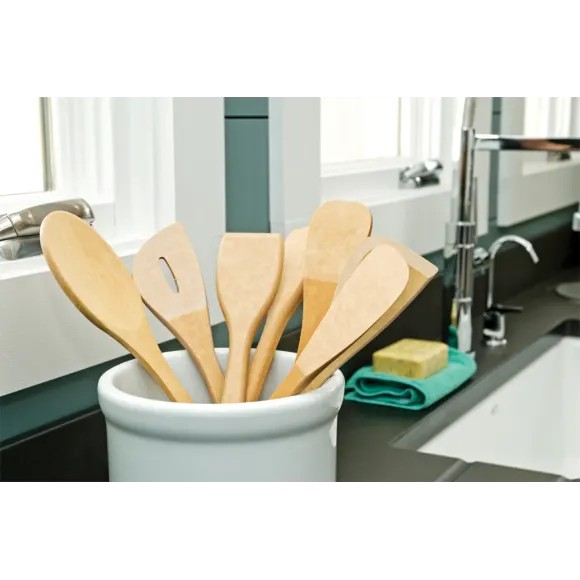 We can't get enough of these Epicurean Chef Utensils! They are made of the same wood-composite material as Epicurean cutting boards, which you already know our Browns Kitchen Team Members love! These robust tools are perfectly balanced and feel so good in your hand. They take stirring, sautéing, flipping, turning and bowl scraping to a higher level. They are completely food-grade, non-toxic surface that will not harbor bacteria and is completely sanitary. Because of their construction, they are 100% dishwasher safe, which means no more worrying about one accidentally ending up in the dishwasher! Each utensil is certified safe by the National Sanitary Foundation (NSF). They are currently available in three styles: the Angled Turner, the Large Spoon, and the Saute Tool!
Blendi Pro Portable Blender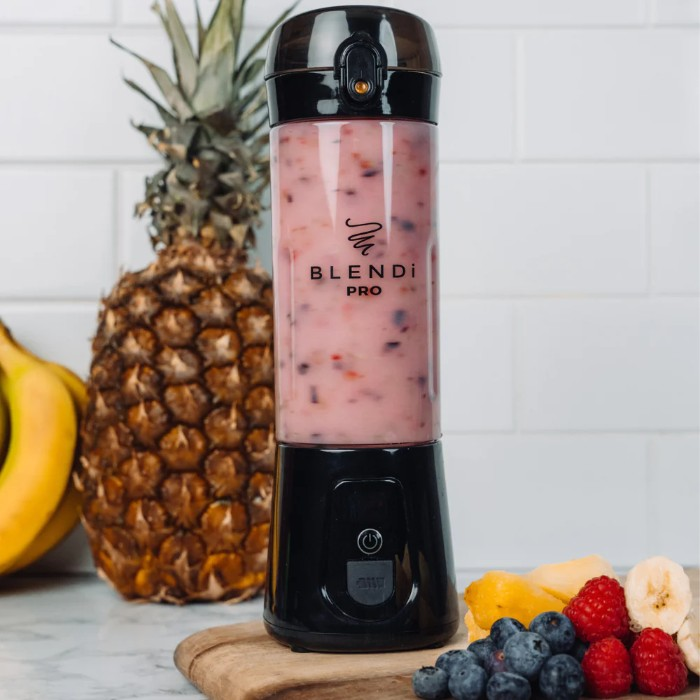 The Blendi Pro is so fun to use, you'll want one for yourself too! This small blender packs a big punch. It can blend through frozen fruit and ice in less than 20 seconds! It is cordless and small enough to toss in your purse or the cooler, making it perfect for any mom-on-the-go! Fill it with your smoothie ingredients before leaving the house and then blend it up when you're ready to drink it! Currently available in white or red!
Aerolatte Milk Frother
If your mom enjoys a good cup of coffee in the morning, she needs this battery operated milk frother! This product is a favorite with coffee lovers all over the world. The aerolatte® Original Steam Free Milk Frother is a handy, battery-operated stainless steel wand whisk. Simply heat your milk, then submerge the Milk Frother and turn it on. It can be used to create rich, creamy frothed milk for cappuccinos, caffè lattes, frappès, hot chocolate and milkshakes. Even better, it froths all types of milk to a perfect consistency, including soya, rice, almond, coconut, UHT and powdered milk or single cream. It is available in a Satin Finish.
Microplane Zester

Make your mom feel like a celebrity chef with this Microplane zester. It is loved by celebrity chefs, restaurants, and home cooks around the world. If you want the best zester, this is it! Microplane is the standard that everyone else tries to meet. People have gone as far as to say it has changed their life. Zest citrus at the perfect depth to only get the zest, and not the bitter white pith. It is a multi purpose tool and it is recommended for grating garlic, grating ginger, grating parmesan cheese. Available in a variety of colors, including white,
Professional Mandoline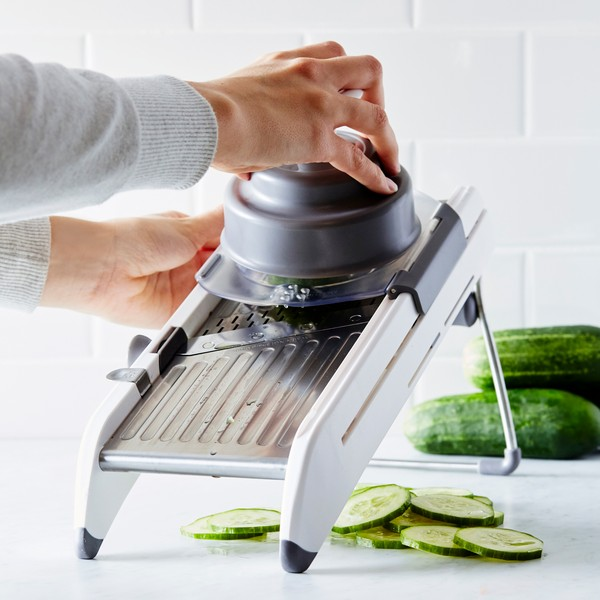 Mom will be able to slice, julienne, waffle-cut and more with this professional-grade mandoline. It makes prepping veggies and fruit quick and easy! This mandoline features four slicing thicknesses, a durable stainless steel slicing deck and a stable, nonslip base that keeps the it from sliding across the counter top. Thanks to its integrated, multi-function blades and handy controls, changing from julienning to slicing or adjusting slice thickness is as simple as turning a knob. Make mom's day with this nifty, versatile kitchen tool, available here.
Marble and Acacia Wood Mortar & Pestle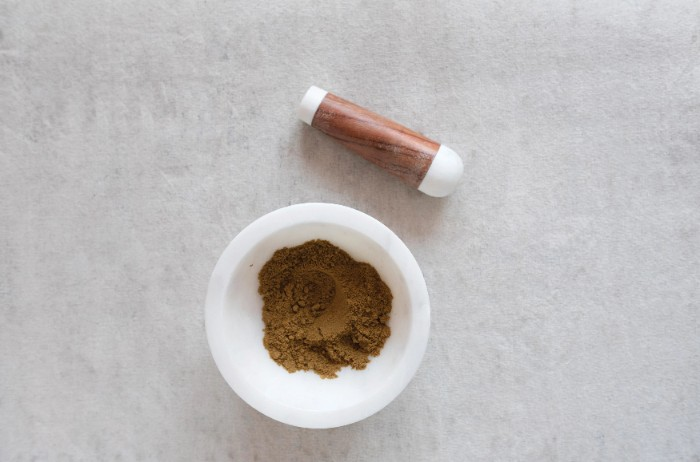 If your mom loves to entertain with stylish flair, this Marble and Acacia Wood Mortar and Pestle is the perfect kitchen tool for her. The classic design combines soft marble, with modern touches of beautiful acacia wood. This unique combination of materials also makes it extremely practical. The marble bowl allows for perfect crushing and its balanced weight paired with the wood grip makes grinding even easier! Whether she's cooking up something special or just need some fresh seasonings, this Marble and Acacia Wood Mortar and Pestle turns cooking into a luxurious culinary experience.
Recipe Books and Aprons
Cooking is an art, and what better way to master it than with the help of recipe books and aprons? Recipe books are a wonderful way to organize and protect family recipes. If you're ready to really impress, you can go ahead and add a few of your personal favorite recipes before giving it to mom, so she thinks of you every time she uses it.
On the other hand, aprons are an essential item for any cook, protecting your clothes from spills and stains. An apron not only serves a practical purpose but can also reflect your personal style. With a plethora of designs available, you can find the perfect style to fit your mom's personality. Here's a few of our favorite options!
Recipe Organizing Tin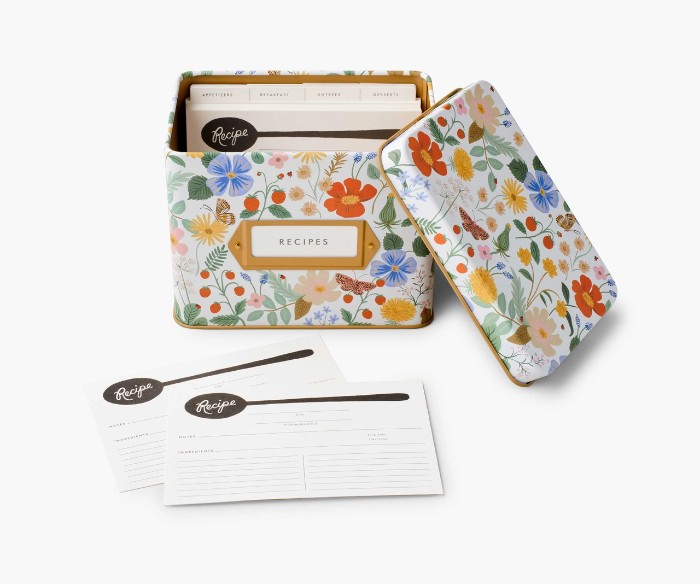 Organizing family recipes has never been easier with this Rifle Paper Co Recipe Tin. It comes with 24 blank recipe cards and 12 dividers to help keep everything in order. If your mom enjoys keeping a tidy kitchen, we know she will love this gift. She will be able to sort all of her favorite recipes and keep them within reach for the next time she needs it! This beautiful tin comes in three patterns, Strawberry Fields, Citrus Floral, and Blue Garden Party.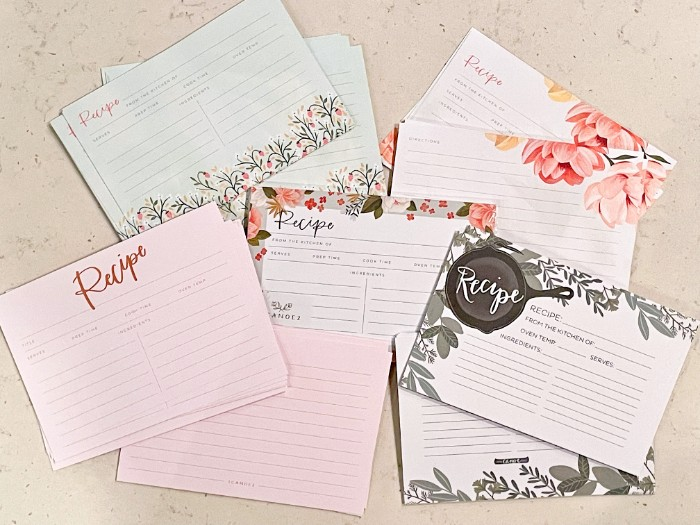 If your mom has a lot of recipes to organize, you can add extra recipe cards with her gift! We just restocked our recipe card collection and we added so many new cute patterns! Our favorite patterns include the Petaluma, Palm Springs, Strawberry Meadows, and Skillet Herb!
Cottage Floral Apron

If your mom loves florals, this is the apron for her! Its timeless look is made even more charming with a defined waist, pleats and two front pockets for those treasured recipe cards. It will bring a bit of color and traditional farmhouse style to her outfit in an instant! We love this Cottage Floral Apron because it balances beauty with practicality!
Berry Sweet Betty Apron

For the mom who loves her strawberries, she will adore this Berry Sweet strawberry apron! The beauty and sweetness of summertime strawberry fields will bloom in your home all year round with this joyful apron! It's made from 100% cotton, and has red ties at the waist & neck and dual front pockets. It's the perfect way to keep your clothes clean while cooking and baking while still showing off your love of bright colors and charming patterns. You can even pair it with one of the matching silicone spatula sets!
Family Recipe Book & Keepsake Journal | Blank Cookbook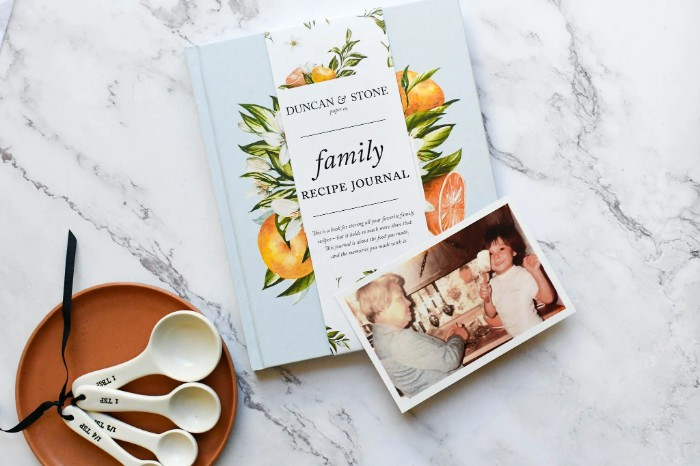 This is a book for the kitchen, but this is also a book for your memories. Yes, it will hold your moms favorite recipes, but it will also gather the memories of the people, places and moments that made those meals special. With sections for breakfast, appetizers, soup and salad, main dishes, side dishes, and desserts, your mom will be able to easily organize and display her favorite family recipes. In the back of the book there are blank pages and a storage pocket for the original recipe cards or other keepsakes she may want to preserve. This is Family Keepsake Recipe Book is a gift your mom will cherish and pass down for generations to come.
Lemon Chefs Apron

We love this lemon patterned chefs apron because it mixes a beautiful print with the cut of a traditional chefs apron. This style of fit is wonderful because it is flattering on all body types and the adjustable straps make it perfect for everyone. Your mom will rest assured that any mess she makes will stay on this apron and won't bleed through to her clothing! Plus, it can easily be tossed in the washer and dryer and it will be ready for the next time she needs it! You can pair this adorable Lemon Chefs Apron with our newest Ariston Olive Oil, the Lemon Infused Olive Oil!
Citrus Grove Recipe Binder

The Citrus Grove Recipe Binder is for the mom who can't bear to part with a single recipe. It includes 10 clear recipe card sleeves, a Double-sided pocket folder, 16 tabbed dividers so that she can organize hand written recipes, magazine clippings, or anything else she may want to include. It also comes with several fully illustrated reference pages to help with easy cooking and baking conversions! She will love collecting recipes in this beautiful binder and will think of you each time she uses it.
Gifts for Moms Who Love to Bake
For moms who love to bake, finding the perfect gift can be a lot of fun. Whether she's a master baker or just enjoys whipping up treats for her loved ones, there are plenty of options to choose from.
One great gift idea is a set of new bakeware, a marble rolling pin, or beautiful measuring cups and spoons. Another option is a cookbook from her favorite chef or baker! And of course, a beautiful apron or oven mitt is a practical and stylish gift that she'll use whenever she's in the kitchen.
No matter what you choose, she's sure to appreciate the thought you put into finding the perfect gift for her baking obsession.
Baking Essentials
Baking is an enjoyable and rewarding hobby for many, but it can be intimidating to take on if you don't have the necessary tools. That's where baking essentials come in. Having the right supplies can make all the difference in your baking endeavors, from measuring cups and spoons to mixing bowls and baking sheets. But it's not just about having the basics - investing in a few high-quality tools like a food processor or a kitchen scale can take your baking to the next level.
Whether you're a beginner or a seasoned pro, make sure you have all the baking essentials on hand to create delicious treats for yourself and your loved ones.
USA Pan Cookie Sheet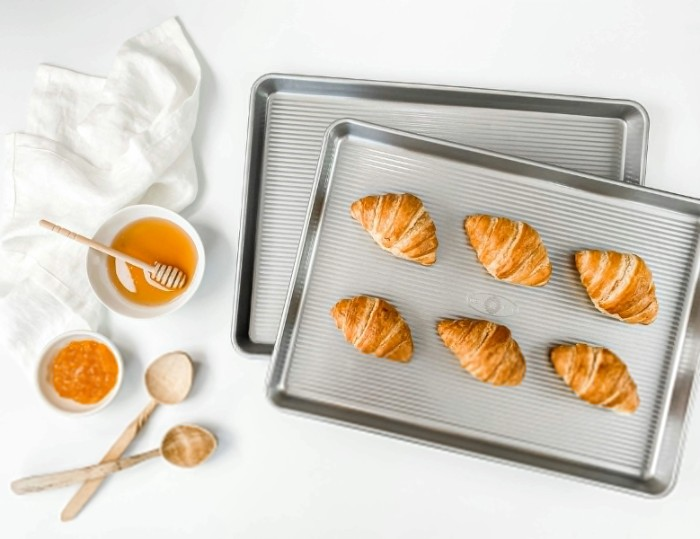 Mother's Day is the perfect opportunity to upgrade mom's baking sheets and get rid of the ones she's been using since you were a child. Not only do older pans have a higher risk of containing toxic chemicals, they also don't bake as evenly as updated baking sheets do!
We love our USA Pans because their unique fluted design allows air to flow beneath your baked goods which will allow for more even baking and maximizes pan strength to help resist warping. These pans are available in a few different sizes, but we recommend starting with a couple of half sheets, which should fit perfectly in most standard ovens!
Silpat Half Sheet Baking Mat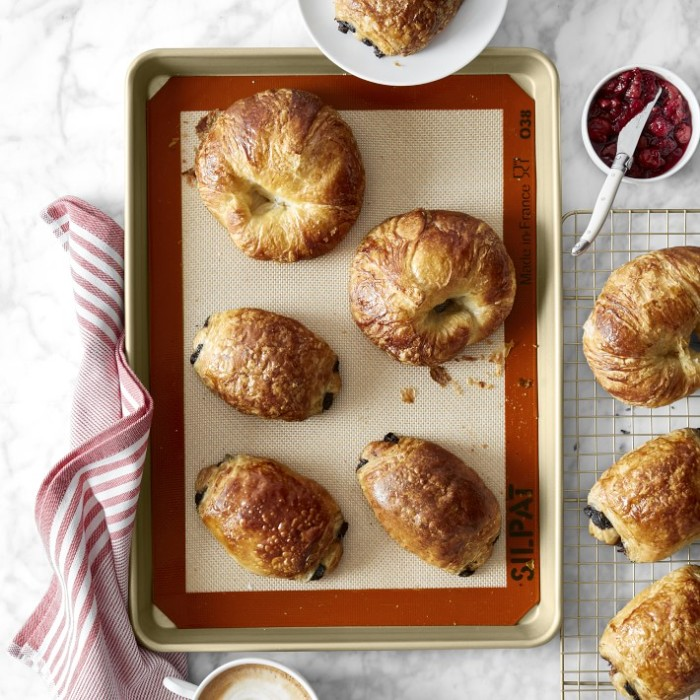 Keep mom's new baking sheets bright and beautiful by pairing them with a Silpat baking mat. Silpat is the original silicone baking mat, made from a dedicated silicone with reinforced fibreglass mesh. Nothing sticks to Silpat which means mom will spend less time cleaning and more time enjoying her baked creations.
Pastry Cutter

Combining pastry dough is so much easier with a good quality pastry blender. It is perfect for mixing ingredients and tackling tasks that require more muscle, like blending thicker batters and heavier doughs. The sturdy, flat blades quickly cut in firmer ingredients, like butter, shortening, and cream cheese, breaking them into smaller pieces while blending wet and dry ingredients evenly throughout the dough for a better taste and consistency. Your mom will thank you every time she uses her pastry blender to make a pie crust or pizza dough!
Novelty Cake Pans and Decorating Supplies
If your mom loves to wow her party guests, a deliciously unique cake pan is the perfect gift for her! From intricate designs reminiscent of flowers to fun shapes like diamonds and swirls, the options are endless when it comes to creating a cake that's truly one-of-a-kind.
And with an array of decorating supplies like edible glitter, sprinkles, and food coloring, she can transform her creation into a masterpiece. Whether she's a professional pastry chef or a novice baker, novelty cake pans and decorating supplies are a must-have for any kitchen.
Nordic Ware Bundt Pan

Nordic Ware was founded 75 years ago by a husband and wife who shared their love of baked goods that were inspired by their Scandinavian heritage. The company is still family owned and operated, which makes their products the perfect gift for such an important family holiday.
They have designed some of the most incredible and unique bundt pans we have ever seen, and we know your mom would love them as much as we do! With so many patterns to choose from, it is hard to narrow it down, but here are a couple of our favorites from their current collection: The Anniversary Bundt, The Braided Bundt, and The Heritage Bundt.
OXO Cookie Press

The OXO Cookie Press makes easy, decorative cookies at the press of a lever. If your mom loves to bake cookies, but don't want the hassle of decorating them, this is the perfect gift for her! This set comes with discs that will create Daisy, Flower, Sunflower, Fleur-de-lis, Butterfly, Bear, Shell, Leaf, Heart, Snowflake, Tree and Wreath shaped cookies!
Cake and Cookie Decorating Bulb

Your mom will be able to frost and decorate like a pro with this Frosting Bulb Decorating Kit. It comes with a silicone frosting bulb, One closed star piping tip, One basket piping tip, and One small circle piping tip. She'll never have to worry about running out of decorating bags again with this reusable decorating bulb!
Gifts for the Grill Master Mom
It's time to spoil the grill master mom in your life with some top-notch gifts that will take her outdoor cooking game to the next level. From high-quality grilling tools to innovative gadgets, there are so many options to choose from to show your appreciation for her culinary skills.
Consider a cast iron grill pan, a new set of grill gloves, or even a new BBQ rub to add a touch of fun to her backyard parties. Whatever you choose, she's sure to love it and impress her guests with her newfound goodies. So go ahead and make her day with a thoughtful and useful gift that celebrates her love for grilling.
Grilling Pans, Accessories, and Spice Rubs
Fire up the grill and get ready for a flavor explosion with the help of grilling accessories, spice rubs, and sauces! Elevate your grilling game by using the best tools like tongs, spatulas, and thermometers. And don't forget to add some spice to your meat with tantalizing rubs that will make your taste buds dance. With the right grilling pans, accessories, and spice rubs your summer cookouts will never be the same.
Bear Paws

Grilling season is just around the corner, and if your mom doesn't already own a set of Bear Paws, then this is your chance to give her the best grilling gadget on the market. Our cookouts have not been the same since we were introduced to this product. Bear Paws allow you to shred meat in a matter of seconds. The comfortable grips give you the ability to lift, handle, shred, pull, and carve to your heart's content. 
Cast Iron Grill Pan

Nothing beats oysters and shrimp straight from the grill, and we have what your mom needs to make both! Our Outset Cast Iron pans make it easy to grill and serve with their grill to tabletop design! The Oyster pan will hold 12 oysters, and the shrimp pan holds 24 shrimp! You can find the oyster pan and shrimp pan on our website!
Pro Seasoning

Pro Seasoning is created by Tallahassee's very own, Chef Nikki Pettineo! This seasoning is a perfectly balanced blend of Himalayan pink salt and black pepper among other spices that make it a perfect all-purpose seasoning. It can be enjoyed on meat, chicken, fish, eggs, vegetables, and breads before and after cooking. We know Pro Seasoning will quickly become your moms new favorite seasoning! It is also available in a Java Rub, which is great on ribs!
Kitchen Decor Ideas For Mom's Special Space
As a mom, the kitchen is often the heart of the home. It's where meals are prepared, conversations happen, and memories are made. So why not make it an extra special space with some unique, practical kitchen decor ideas?
From beautiful spoon rests to stunning utensil crocks, there are plenty of ways to add personality and style to your kitchen.
Whether your mom is into farmhouse charm or modern minimalism, there are options to fit every taste and budget. And don't forget the little details like cute tea towels and quirky salt and pepper shakers. With a bit of creativity, mom's happy place can be truly one-of-a-kind.
Hand Carved Mango Wood Serving Utensils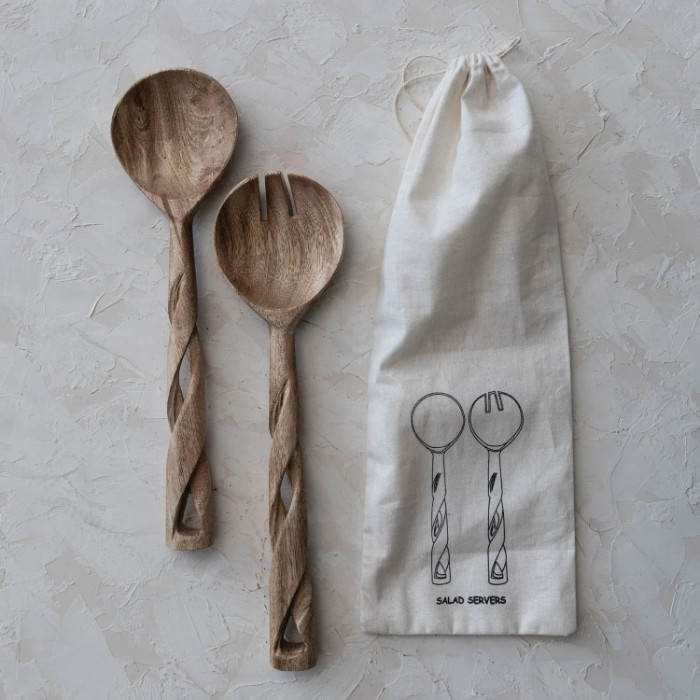 Elevate mom's entertaining with this beautiful set of Hand-Carved Mango Wood Salad Servers. The gorgeous twisted handles are reminiscent of a traditional carved design, adding an elegant yet modern touch to any table setting. Crafted with natural mango wood, these salad servers will add organic and rustic charm to her dinner parties. Perfect for serving salads, sides or pasta dishes, and presented in a white printed drawstring bag, this set makes the perfect gift for the mom that loves to host - she'll be delighted to receive such unique serving pieces!
Le Creuset Flower Spoon Rest

The Flower Spoon Rest is a delightful way to add a touch of springtime joy to mom's kitchen – it's perfect for holding utensils as you cook, serving nuts or olives on a charcuterie board, or even for safely holding jewelry while washing dishes. The wide round bowl contains messes and clutter, and keeps tablecloths and countertops clean when setting down utensils. It's available in several colors that we know your mom will love, including Shell Pink, White, Provence Purple, Caribbean, Marseille, and Nectar.
Earthy Votive Holder

If your mom is an avid gardener and loves earth tones, she will love these hand blown glass votive holders. The stunning design with its embedded Tamarind leaves and gold foil edge is modern yet earthy. It adds a gorgeous and elegant touch to any room or occasion. Every piece has been carefully crafted for flawless symmetry, and each votive will be the talking point at her next gathering. Available in two styles, the tamarind leaf and the peepal leaf.
Coastal Coasters

We just stocked these beautiful, coastal inspired coasters. Mix & match them to create the perfect set for mom! They come in three styles and they're sure to protect your mom's coffee table from those pesky water rings! Available in Bouquet in Blue, Shore Am Thankful, and Desert Haze.
Pair the perfect gift with a heartfelt letter
Most importantly, don't forget a beautiful card to pair with your thoughtful gift. We just added two new collections to our card selection! You can see them all on our website under the Greeting Cards collection!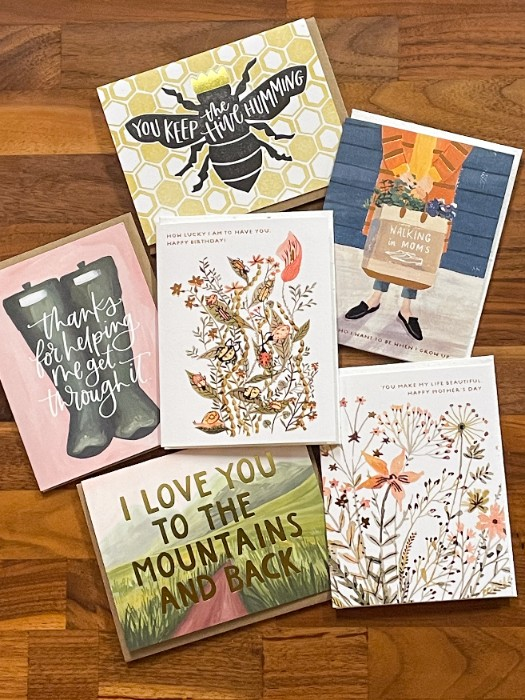 Letting Mom Know How Much You Appreciate Her This Year
It's the perfect time to show celebrate the one who has been there for you through thick and thin - your mom. From changing your diapers to helping you through your first heartbreak, she always has your back.
This year, take some time to put your love and gratitude into words and let her know just how much she means to you. Whether it's a heartfelt message, a thoughtful gift, or a fun activity that you can do together, the important thing is to show her that you care. So go ahead and make this Mother's Day a special one for the woman who has given you the world.