If you haven't found the perfect gift for your man yet, fear not! We've got you covered. This year, why not treat him with some top-notch kitchen and grilling gear that will have him cooking up a storm and impressing all his friends (and let's be real, probably bragging about it too)? So, without further ado, here are our top men's kitchen and grilling gift ideas that will make any man proud.
The Griller
You know how every dad has that one apron they always wear when they're grilling? Well, it might be time for him to upgrade with a heavy duty canvas grilling apron that will make him feel like the king of the grill. Shop all men's aprons here.
If your he is a serious griller, then he knows how important it is to cook his meats to the perfect temperature. Help him take the guesswork out of the equation with a high-tech meat thermometer that will give him an accurate reading every time. He'll never have to cut into a steak to check if it's done again. Our top two contenders are the Meater+ and the Thermapen. Honorable mentions include the Thermaworks Infrared, Smoke, Square Dot, and Standard Dot.
Meater+: The Meater+ is a wireless probe thermometer that will send an alert to your dad's phone when it is time to pull the food off the grill. This is a fantastic option for those who enjoy smoking meats because he can check the internal temperature from the sofa without having to open the smoker and risk releasing all of the heat (and delicious smoky flavor). 
Thermapen: The Thermapen is an instant read thermometer that will accurately tell you the internal temperature as soon as it is inserted. This is a better option for the low-tech guy who wants to make high quality meals.
When it comes to grilling, having the perfect cut of meat is key. But before it even hits the grill, the meat has to be properly cut and trimmed. This is where a good set of butcher knives comes in. There are several different types of knives needed for butchering meats, each with its own specific purpose. A cleaver is used for hacking through bones, while a boning knife is used for separating meat from the bone. A fillet knife is ideal for cutting fish, and a slicing knife is perfect for cutting through large cuts of meat like roasts. A good set of butcher knives will not only make the job easier, but it will also result in better quality meat him to grill.
Heavy Meat Cleaver: This powerful blade is specifically designed for hacking through bones and tough cuts of meat with ease. The blade is thick and heavy, allowing for optimal force and control when breaking down large pieces of meat.
Meat Slicer: This long, thin blade is designed for slicing through large cuts of meat, such as roasts or hams, with precision and ease. Unlike a traditional chef's knife, which is better suited for chopping or dicing, a slicing knife has a flexible blade that can handle the slight curves and contours of a large piece of meat. This flexibility allows for a smooth and even cut, resulting in perfectly sliced meat that is uniform in thickness and texture.
Artisan Butcher Knife: This is the newest addition to our knife case, and we love it! This type of knife has a long, curved blade that is perfect for separating the meat from the bone and making clean, precise cuts. It is often used in conjunction with a meat cleaver and a boning knife to create perfect portions of meat for grilling or cooking.
Carving Set: The carving knife has a long, thin blade that is specifically designed for slicing through meat with precision and ease. The blade is also typically curved, which allows for a smooth and even cut. The carving fork, on the other hand, is used to hold the meat in place while it is being carved. This is especially important when dealing with larger cuts of meat, as it can be difficult to hold the meat steady with just one hand.
Tri-Stone Sharpener: This tri-stone is designed to sharpen and maintain the edges of all types of knives, including butcher knives, chef's knives, and even serrated knives. The tri-stone design consists of three different grit levels, from coarse to fine, which allows for a gradual and precise sharpening process.
Knife Roll: If your dad has invested in a good set of butcher knives, it's important to also invest in a good way to store and transport them. That's where a knife roll comes in handy. A knife roll is a compact and convenient way to keep all of your knives organized and protected. It typically consists of a sturdy yet flexible material, such as canvas or leather, with slots for each knife to fit snugly into.
Grill Seasonings
Pro Seasoning: This all purpose rub is a perfectly balanced blend of Himalayan pink salt and black pepper among other spices. Not only is it delicious, but it is also made right here in Tallahassee by Chef Nikki Pettineo! She also sells a Java Rub that takes ribs to the next level!
Spicewalla: If you haven't tried the Spicewalla spices yet, you are missing out! Spicewalla is a chef-driven brand that specializes in fresh, small batch blends that are packed and processed by hand to ensure the highest quality. We've two variety packs you can choose from, the Grill and Roast Collection and the Ultimate BBQ Collection. You can't go wrong with either choice!
Bourbon Barrel: The bourbon barrel brand has a variety of spices, including smoked sea salt, smoked black pepper, smoked paprika, and a smoked sugar! Pair it with Matt Jamie's cookbook, Eat Your Bourbon, for the perfect gift!
Omnivore Salt: This is an organic balanced, earthy, peppery, delicate picante sea salt blend. It is a versatile cooking salt and finishing salt as well. Use it as a rub for grilling or roasting, as a foundation for sauces, soups, and dressings. Sprinkle it on eggs and vegetables. Just a pinch will add a perfect balance of taste to all your recipes and bring out the natural flavor of your food! 
Duck Fat Spray: Gourmet duck fat spray is a versatile and flavorful cooking spray that can take any dish to the next level. Made from rendered duck fat, this spray is perfect for grilling meats, sautéing vegetables, and even baking bread. The high smoke point of duck fat makes it ideal for high-heat cooking, and the spray format makes it easy to apply just the right amount of fat to your dishes.
The EVO Oil Sprayer is a popular choice for its ability to spray oils evenly and with a fine mist. Simply fill the bottle with your preferred oil (we love the Ariston Garlic Olive Oil). It can be used to oil meats and veggies before tossing them on the grill, or to add oil as you're heating up a pan!
These are our favorite turners for the serious grill master. They come in a variety of sizes and shapes to accomplish your desired goal. The long handled turner is especially good when cooking on a hot grill because it keeps your hands clear of the hot flame!
When cooking on an open flame, the heat can become intense and dangerous, especially when handling hot pans or grates. This is where grill gloves come in handy. Designed with heat-resistant materials, these gloves provide protection from burns and keep your hands safe from the high temperatures of the grill. They come in a few different styles, including an insulated set that are safe for picking up and turning meats while they're on the grill!
Outset Grill Pans
My prediction is that this will be the gift of the season! The Outset Shrimp and Oyster Cast Iron Pans are so easy to use and create an incredible flavor in your dish. The shrimp pan holds 22 jumbo shrimp and the individual cups let you pour buttery goodness over each piece to make sure they are as flavorful as possible. The oyster pan holds 12 half shelled or shucked oysters, and can also be used to serve cold oysters!
Not only are Teak Boards stylish and durable, but also provides a number of benefits for cooking and food preparation. Teak wood is a hard, dense, and non-porous material that resists bacteria and moisture, making it a safe and hygienic surface for cutting meats, vegetables, and fruits. Unlike plastic or glass cutting boards, teak wood will not dull your knives, which means that your dad can enjoy sharp and precise cuts for years to come. Make sure to pair it with a food safe cutting board oil to keep it in good shape for years to come!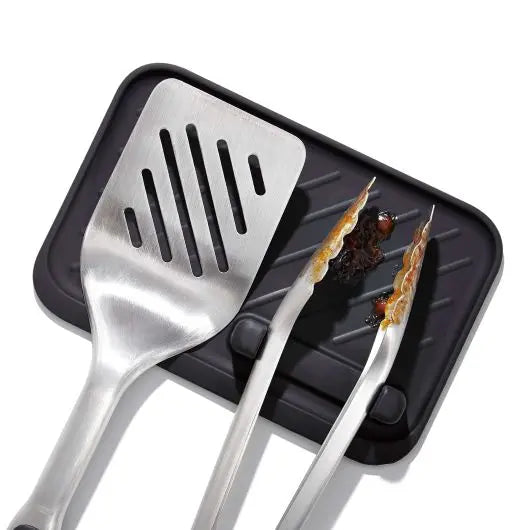 Every grill master needs a trusty set of tools, and there's no shortage of options out there. From stainless steel tongs to spatulas that can flip even the biggest burgers, get him a set that he'll not only use but also proudly display on his outdoor kitchen.
The Cocktail Drinker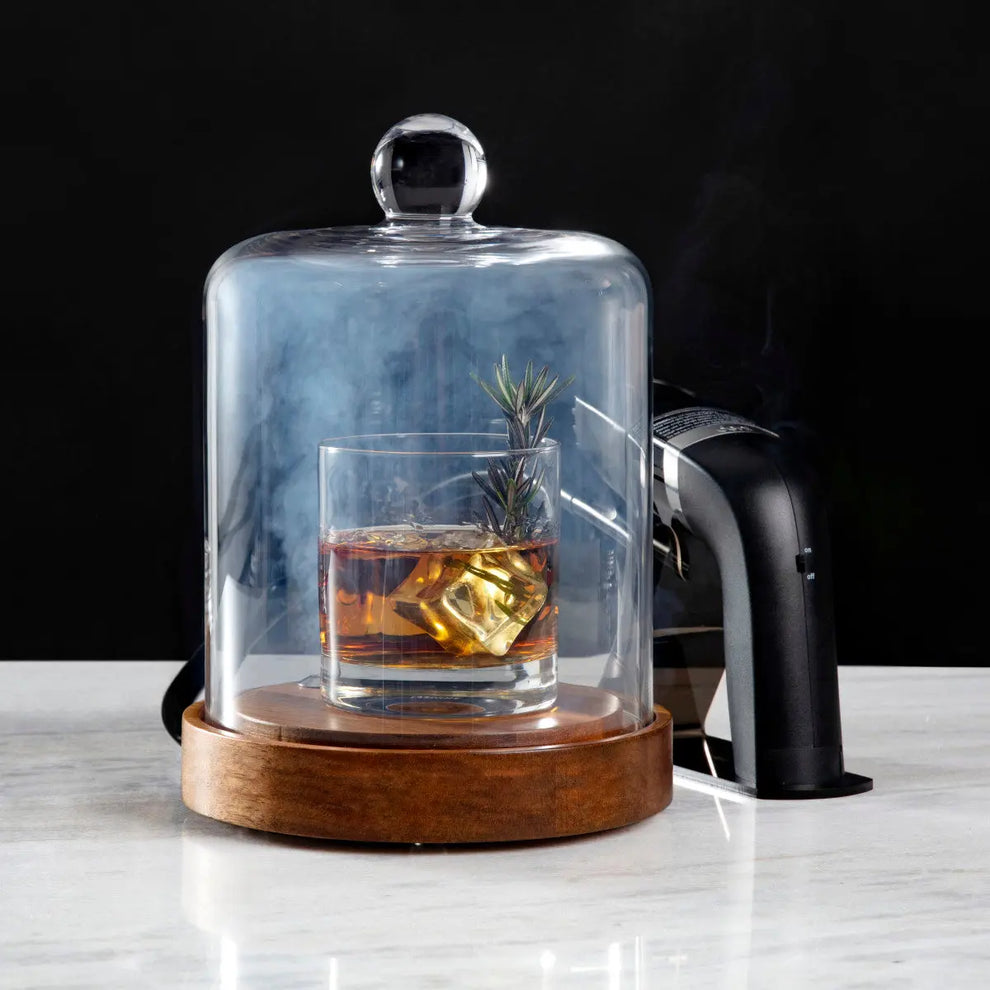 This innovative smoker adds a smoky flavor to your favorite cocktails, taking them to a whole new level of deliciousness. Simply add wood chips to the smoker, light them up, and place the glass cloche on top. The smoke will infuse the cocktail with a rich, smoky flavor that will make your drinks stand out from the rest.
Unlike traditional smokers that require a glass cloche, the Foghat Smoker is a simplified design that is easy to use and easier to store. Place the smoker directly over your cocktail glass, light the wood chips, and add the lid! You'll have a perfectly smoked cocktail in minutes!
When it comes to crafting the perfect cocktail, ice is often an overlooked but crucial ingredient. Not only does it help chill the drink, but it also adds to the overall presentation and aesthetic. However, not all ice is created equal, and using the wrong type of ice can result in a diluted and watered-down drink. This is where slow melt ice molds come in handy. Slow melt ice molds, as the name suggests, are designed to melt at a slower rate than traditional ice cubes. We have a few styles of these molds, but our favorites are the Peak Clear Ice Molds that give you crystal clear ice cubes!
Fortessa NoHo Decanter + Glasses
A matching set of cocktail glasses and a decanter is the perfect gift for the guy who appreciates style and sophistication. The decanter is perfect for storing and pouring your favorite spirits, while the cocktail glasses are designed to enhance the flavors and aromas of your drink. Plus, having a matching set ensures that your dad's home bar looks cohesive and put-together, which will impress his guests and make him proud to show off his collection.
Withco is crafted with the finest ingredients, this mixer is designed to create a classic, hand-crafted Old Fashioned cocktail with ease. The Withco Ellis Old Fashioned Mixer is made with a blend of raw Demerara sugar, fresh orange juice, tart cherry juice, and a select blend of aromatic bitters. These ingredients are carefully combined to create a rich, complex flavor profile that perfectly complements your favorite bourbon or rye whiskey.
Old fashioned cubes are a must-have for any dad who loves his cocktails. Simply muddle the cubes in the bottom of your bourbon glass and you've got an instant old fashioned!
Cocktail bitters are an essential ingredient for any home barcart. These concentrated flavor extracts are made by infusing herbs, spices, fruits, and barks in alcohol, resulting in a highly aromatic and flavorful liquid. Bitters add depth and complexity to cocktails, enhancing the natural flavors of the spirits and mixers and creating a more balanced and satisfying drink. We sell full sized bottles of Spiced Cherry, Orange, and Chocolate bitters. 
Whether he's a seasoned mixologist or just starting out, this cocktail book is a fantastic guide. Written by the award-winning team behind the popular bar Death & Co, this book is a comprehensive guide to cocktail making that breaks down the fundamentals of mixology into six essential templates. Each template represents a different category of cocktail and includes a detailed explanation of the ingredients, techniques, and flavor profiles that make it unique. The templates range from the simple and refreshing Highball to the complex and sophisticated Martini, providing a solid foundation for any type of drink you want to create.
The Way Of The Cocktail is a beautifully illustrated and informative book that takes readers on a journey through the history of cocktails and the art of mixology. Written by award-winning bartender and spirits expert, Jackson Cannon, the book is a must-have for any cocktail enthusiast or aspiring mixologist. What sets The Way Of The Cocktail apart from other cocktail books is its focus on the art and science of mixology. Cannon doesn't just provide recipes, he also explains the reasoning behind each ingredient and technique, helping readers understand the fundamentals of cocktail making. The book also features a comprehensive glossary of cocktail terms and a detailed index, making it easy to find exactly what you're looking for.
The Pizza & Pasta Lover
Written by Tony Gemignani, a 13-time World Pizza Champion, this book is the ultimate guide to pizza making. It covers everything from the history of pizza to the science of dough, and it includes over 75 recipes for pizzas of all kinds. What sets The Pizza Bible apart from other pizza cookbooks is its attention to detail. Gemignani takes a scientific approach to pizza making, analyzing the chemistry of the dough and the physics of the baking process. He also includes step-by-step instructions for making dough, shaping the crust, and baking the pizza, so even novice pizza makers can achieve professional results.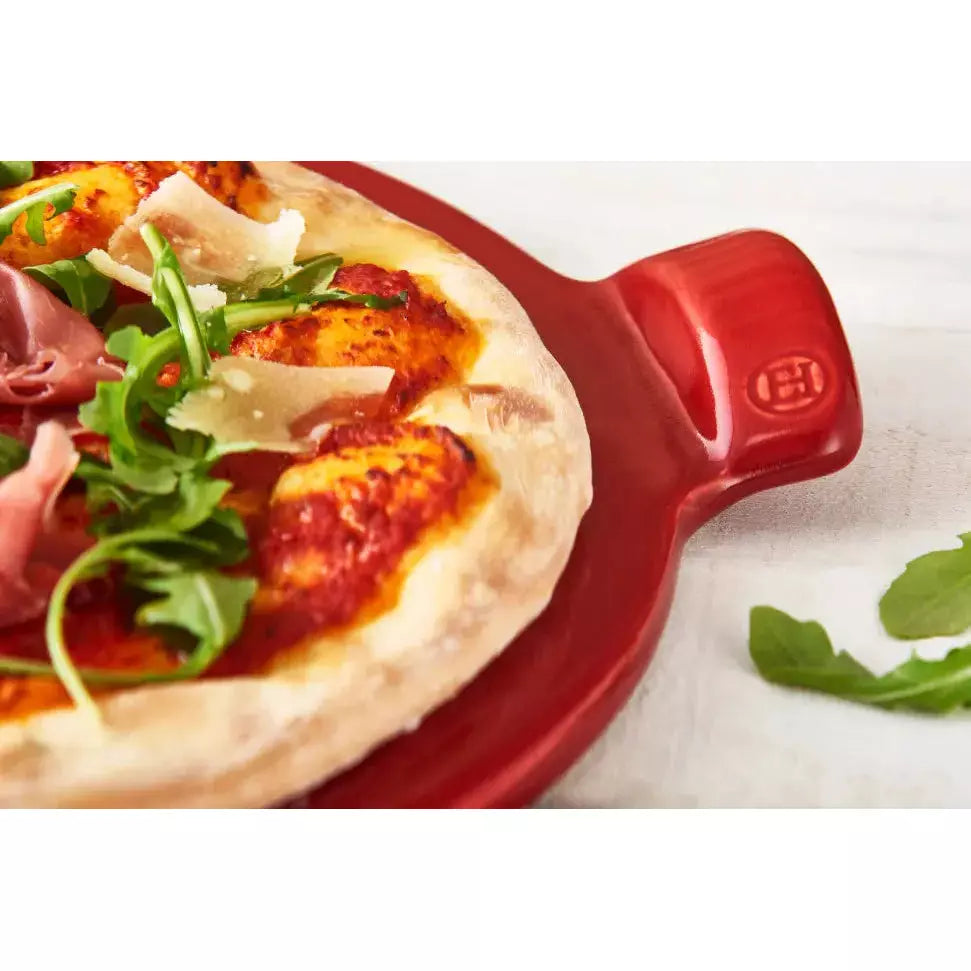 The Emile Henry pizza stone is a unique cooking stone made from high performance ceramic. It allows you to create delicious pizzas with a golden, crispy crust; ensuring your pizza will be perfectly cooked, just like in a traditional pizza oven. Re-create the delicious results of brick oven pizza baking with the Emile Henry pizza stone in the oven or on the grill. The sealed surface allows for easy release and no residual odors or stains. Because it is heat safe upto 900°, it can also be used for grilling vegetables or fish over the grill.
Pizza night is a family favorite. And part of the fun is preparing and baking the pizza! With the Outset Pizza Peel + Pizza Cutters, you'll no longer have to fret with moving the pizza from the oven or trying to cut it with a flimsy pizza wheel – keeping pizza night ever-so fun.
Whether making pasta sheets for lasagna or stamping out pasta "coins" for Corzetti with Goat Cheese and Asparagus—or even buying handmade pasta to make Tagliatelle with Porcini, Rosemary, and Garlic—Robbins provides all the inspiration, instruction, and encouragement required to make pasta exceptionally well. Evocatively photographed with nearly 100 full-color mouthwatering photos of pasta dishes and twenty images from Italy, this is a richly illustrated ode to the ingredients, recipes, and craft that have made pasta the most popular fare of a beloved cuisine.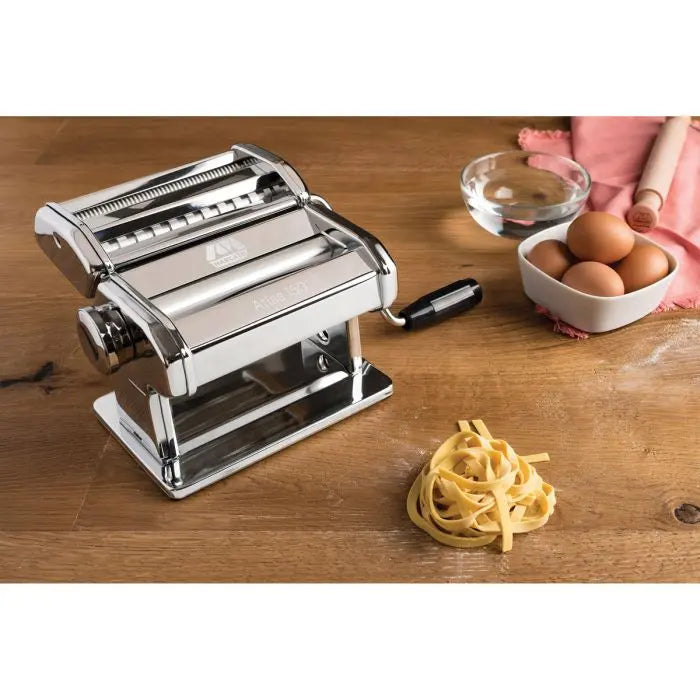 Often called the "Ferrari of pasta machines", this pasta machine rolls and cuts pasta dough for making traditional Italian pasta at home. Nothing tastes better than homemade pasta. An invaluable addition to pasta making tools, the pasta roller and cutter easily makes lasagne, fettuccine, and tagliolini. The adjustment dial controls dough thickness and rolls dough evenly for a consistent texture, cook time and taste. Roll dough up to 150-millimeters wide and customize pasta to 10 different thicknesses for each recipe, between paper-thin 0.6 to 4.8-millimeters.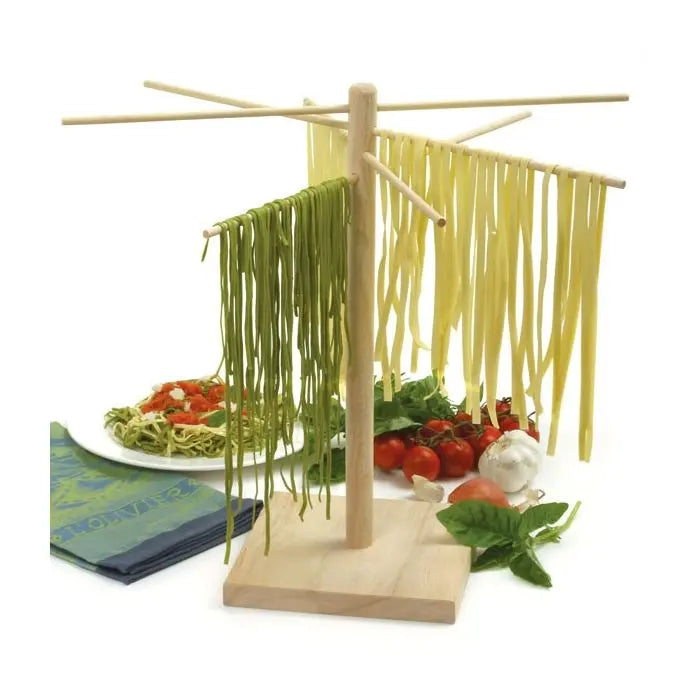 Of course, you can't have make homemade pasta without a pasta drying rack. This wood drying rack will help the homemade pasta to dry evenly and quickly, so that it's ready for cooking.
The Gadget Guy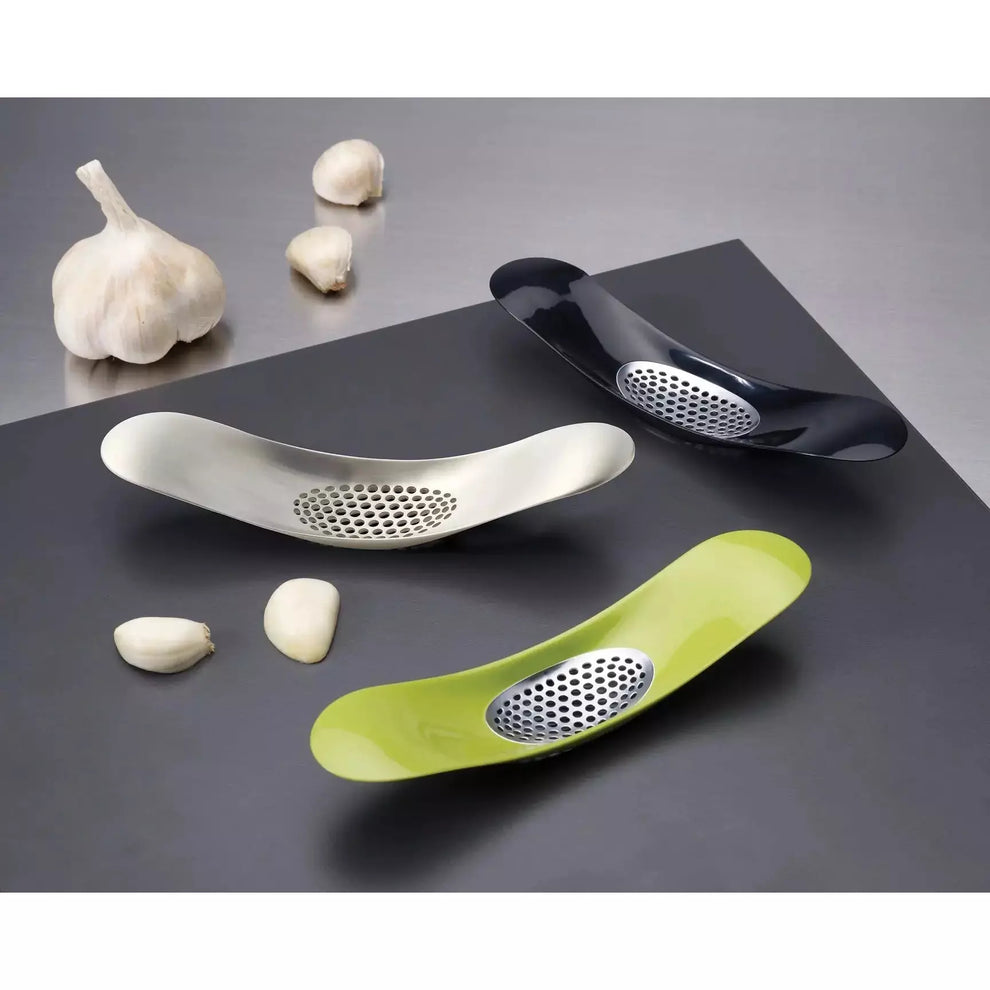 Make crushing garlic a breeze and avoid any unwanted odor on your hands with this nifty tool. Simply push and rock it back and forth over the cloves and watch as they are quickly and easily crushed, with the crushed garlic collected in the bowl-shaped design for easy scooping directly into your pan.
Help him elevate his home cooking to restaurant-level with sous vide, an ultra-precise and convenient cooking technique. By immersing food in a precisely temperature-controlled water bath under vacuum seal, you'll ensure succulent, evenly cooked dishes every time. 
A beginner's guide to sous vide, which has been a popular cooking technique in restaurants for years, offering tender and succulent dishes cooked to perfection. This easy-to-follow cookbook clearly illustrates how to harness the power of sous vide technology to achieve restaurant-quality dishes in the comfort of your own kitchen. Discover the stress-free way to cook a delicious (and never dry!) Thanksgiving turkey along with all the trimmings, classics like Perfect Sous Vide Steak and Duck Confit, and next-level appetizers like Deep Fried Egg Yolks.
This sleek, quiet, cordless vacuum pump extracts the air out of its vacuum containers and bags in just seconds and preserves aromas and vitamins. With the Fresh & Save system, you can shop once a week and refrigerate or freeze fresh fruit, vegetables, meat, and fish in our vacuum containers and bags and enjoy the benefits of your own fresh market at home. Prepare your meals days in advance and enjoy them as fresh as the day they were cooked. Cook meat sous vide or marinate meat for the grill in just 30 minutes in the vacuum bags and containers.
Okay, so we all know about air fryers at this point, but it's true, the air fryer is a game-changer in the kitchen, and if your dad loves to cook, he'll appreciate having one at his disposal. From crispy wings to perfectly cooked veggies, an air fryer can do it all, and without all the oil. Plus, it's easy to use and clean, which means less hassle when he's done! If you really want to splurge this year, take a look at the Breville Smart Oven Air Fryer Pro!
There has never been a faster, easier, and cord-free way to light your grill than with the Grill Torch Charcoal Starter. The Grill Torch unique design allows you to quickly light your grill from 20" away while keeping the propane canister safely upright. The Grill Torch Charcoal Lighter does not require you to blow air on your charcoal to start it, which greatly reduces sparking. The self ignition makes lighting a breeze and the flame is fully adjustable up to 1300 degrees C. Plus, it's just a fun toy to have around the house for the pyromaniac in your family!
This smoking gun is not just for the cocktail loving dad- it can be used to infuse smoky flavors into nearly anything! We love to use this with charcuterie boards, meats that need a little flavor boost, and even popcorn!
And there you have it, folks - our top kitchen and grilling gift ideas that will make him the happiest guy on the block. Whether he's already a seasoned grill master or just starting out, these gifts are sure to up his cooking game and make him feel appreciated. Happy grilling!